6th Annual FORE Ladies Only Golf Outing
| | |
| --- | --- |
| New Jersey Women Lawyers Association | Press Release |
The Sixth Annual NJWLA & ECBF "Fore Ladies Only" Golf Outing and Clinic was held on its rain date, July 24th, despite another dreary weather forecast. Just in time for tee-off, the rain stopped and offered a beautiful afternoon for about 50 women golfers to enjoy at the picturesque Cedar Hill Golf & Country Club in Livingston. Golfers were able to choose between a full 18 hole course, a Beginner Clinic and 9 holes or an Advanced Clinic with 9 holes.
Each year, the women provide a selected charity with support, funding and a platform to express its story and mission. This year's charitable partner was Partners For Women & Justice, a non-profit organization providing free legal help in New Jersey to low income, abused victims of domestic violence. Since its founding in 2002, PFWJ has helped thousands of women by offering technical and procedural advice, legal advice and counsel, pro bono and direct legal representation and referrals. PFWJ empowers low-income survivors of domestic violence to build safe and secure futures for themselves and their children by providing equal access to justice. To learn more about Partners For Women & Justice, visit www.pfwj.org.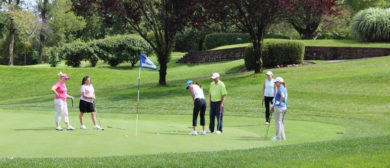 This year's luncheon was generously sponsored by Hudson Reporting and the on course beverage cart was sponsored by Max Title Agency. NJWLA and ECBF also extend their thanks to the Tee Sponsors for this year's event and appreciate the support provided by Chiesa, Shahinian & Giantomasi, Newsome O'Donnell, McElroy Deutsch Mulvaney & Carpenter, Norris McLaughlin & Marcus, Coughlin Duffy, Veritext, Provident, Withum and the American Cancer Society.
The NJWLA is an independent association of over fifteen hundred attorneys, law students and judges in New Jersey. Its mission is to retain women in the legal profession through education and activism; promote its members to the highest levels of law firm, government, academic, community and corporate positions; and endorse qualified female attorneys for appointments to the state and federal judiciary.
Established in 1858 and serving as the charitable arm of the Essex County Bar Association, the Essex County Bar Foundation was established with the express purposes of fostering and maintaining the honor and integrity of the profession of the law and facilitating and furthering the science of jurisprudence; studying, improving and facilitating the administration of justice; promoting the study of the law and research therein and the continuing education of lawyers; publishing and distributing legal literature and acquiring, preserving and exhibiting items of historical interest having legal significance or bearing upon the administration of justice; and promoting suitable standards of legal education.