New Jersey Women Lawyers Association's Second Installment of "Lean In" Panel Series Draws Another Record Turnout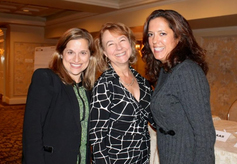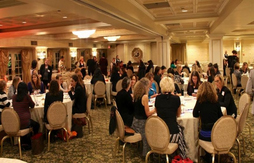 Basking Ridge, NJ-
Over 120 Female Attorneys attended the New Jersey Women Lawyers Association's second "Lean In" Panel presented by the Best Practices Committee at the Olde Mill Inn on October 7, 2014.  The event — which followed up and expanded upon issues raised during an earlier February 2014 event that also involved more than 100 women attorneys from around the State — included networking opportunities and a thought-provoking discussion of career questions that have been highlighted in the book, 
Lean In
, by Sheryl Sandberg.
A networking cocktail reception was followed by an introduction of the panel by event organizer, Nicole Bearce and her Best Practices co-chairs Michele Haas and Laura Conway.  The panelists and discussion leaders also featured The Honorable Helen E. Hoens (retired); The Honorable Jennifer Velez, Commissioner of the New Jersey Department of Human Services; Karen Sheehan, Associate General Counsel, Corporate & Assistant Secretary at Church & Dwight, Co., Inc.; Christine Stearns, Vice President, Health & Legal Affairs at the New Jersey Business & Industry Association; NJWLA President Randi Kochman; and Past NJWLA Presidents Wendy Lario and Galit Keirkut. After the panel's opening remarks and Justice Hoens' inspiring presentation to all of the attendees, the participants engaged in smaller break-out sessions further delving into specific points raised in the book.  Each break-out group then reported back to the larger group with key findings from their discussion.  A list of these key findings as well as other pearls of wisdom from the event are available on the @NJWLA twitter feed.  The event was generously sponsored by Lowenstein Sandler, LLP.